I was fortunate to attend this year's 99U Conference in New York City. The experience provided many reminders of my own creative potential and how to propel it.
In this article, I'd like to give a shout-out to a few of the fascinating people I met. Not speakers, but attendees.
Aysha Teja
As Senior Management Consultant, Aysha uses her passion for connecting people: to help them be their best to lead large-scale Finance Transformations; to design, develop and implement learning programs nationally and globally; and to manage cross-functional teams.
She frequently has the opportunity to be on site with her customers, using much of the same information gathering techniques that a UX practitioner does. Like ethnographic and contextual inquiry; design workshops and root cause analysis.
Aysha recently wrote me and other fellow attendees, to follow up on what parts of 99U are still resonating with us. With that simple follow up email, she exemplified the value of making and keeping meaningful connections.
Aysha writes: "I think it's so important to keep the conversation going. The conference was great but the real impact comes after. It's so easy to get caught up in the day-to-day of work and life, which makes these conversations even more important."
Daniel Garcia
Daniel is an Editorial Fashion & Portrait Photographer and The Cultivator of Content Magazine.
Content Magazine is a magazine for the people of San Jose, by the people of San Jose. From the mission statement: "We believe in serving the city of San Jose. We believe in getting people together with a common goal, helping them explore their talents while producing something that will be a benefit to the city."
Even if you don't live or work in the San Jose area, you must check out content-magazine.com. The publication is beautifully designed and crafted. I love to see people, like Daniel, passionately honoring one's community. It's such important work.
At the conference, Daniel always had his camera with him. I'm sure he covered some great shots of 99U and NYC. I also ran into Daniel at the Guggenheim museum. It's funny how I traveled almost 3000 miles to meet someone from neighboring San Jose.
Tim Chen
Project Coordinator at Haworth and Freelance Industrial Designer.
I met Tim in a workshop from Ayse Birsel on Designing the Life You Love. We worked as partners throughout the workshop. Our first exercise was to draw each other in 5 minues. Here is Tim's sketch of me: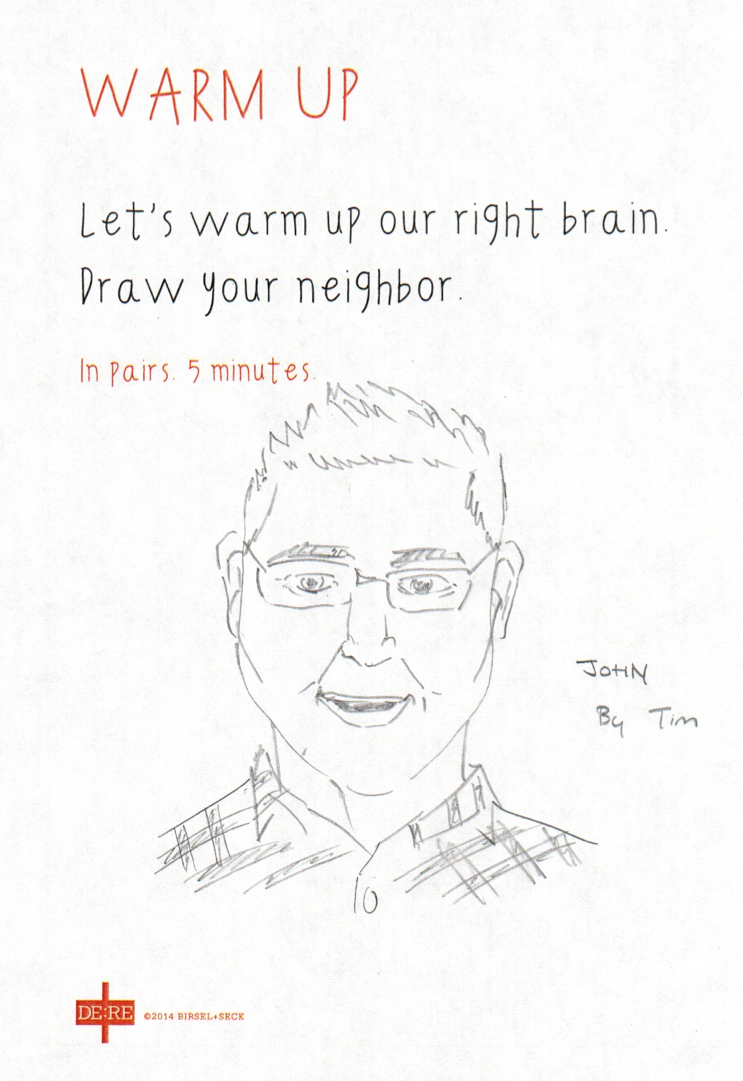 Since the conference, Tim and I have been sharing our work and reflections on the conference. He also shared with me this great quote:
"Our creativity comes without, not from within. We are not self made. We are dependent on one another, and admitting this to our selves isn't an embrace of mediocrity, and derivativeness — it's a liberation from our misconceptions. And it's an incentive, to not expect so much from ourselves, and to simply begin."
– Kirby Ferguson (Creator of Everything is a Remix)
I'm fascinated by Tim's furniture design work, particularly his Akeru Table. I look forward to what he creates next.
Adrian Salamunovic
Adrian is the cofounder and lead of product development and strategy for three businesses: CRATED, DNA 11, and CanvasPop. His businesses are fast-growth online retailers focused on creating custom artwork. Adrian also has THE BEST profile photo on all of LinkedIn. Please note: he did not have the cat with him at the conference. Well, not that I know of.
What struck me first about Adrian, was his enthusiasm and positive energy. Adrian asked me what I thought was an exceptional user experiences out in the world today. It was a great question. I was admittedly stumped at first, because so much of my daily work is focused on improving flawed experiences. I described my exceptional experience with Uber the night before, which got my wife and I from NY Kennedy airport to our hotel, in the pouring rain, while others were waiting upwards of 2 hours just to get into a taxi.
Here's what I didn't know about Adrian until I connected with him on LinkedIn:
First, Adrian was awarded Ottawa's TOP 40 under 40 and Communicator of the Year (IABC) in 2012. Adrian has also been interviewed by major publications, and products he has developed have appeared in the following: FastCompany, USA Today, Today Show, MSNBC Good Morning America, WIRED, DWELL, Wall Street Journal, Forbes, HGTV, Discovery Channel, MSNBC, CSI:NY, Techcrunch, Mashable and The View, to name a few. DNA 11 has been featured in the MoMA, and has appeared on CSI:NY.
You can also follow Adrian on Twitter.
So the next time you're at a conference or attending a workshop, take the time to make some meaningful connections. Aim for quality over quantity. It's not about collecting the most business cards, it's about making worthwhile connections that last.
Featured photo by Aleksandra Mazur via Unsplash